Review
Solo Exhibitions
Skoto Gallery New York presents:
Owusu-Ankomah - FUTURE TRACK
March 15th – April 28th, 2007
Reception: Thursday, March 15th, 6-8pm

Movement 36, 2002, acrylic and pigment on canvas,
75 x 98.5 inches (190 x 250 cm)

Skoto Gallery
529 West 20th Street, 5FL.
New York, NY10011
Telephone: 001 212 -352 8058
www.skotogallery.com
Press Release by Skoto Gallery:
Skoto Gallery is pleased to present "Future Track", an exhibition of paintings by the Ghanaian-born artist Owusu-Ankomah to mark the publication of the English/French edition of his art book by ARTCO, Germany in 2006. This is his second solo show at the gallery.
Owusu-Ankomah is a leading artist of his generation whose work addresses intercultural exchange and contemporary society while stimulating philosophical and political enquiries into the complex relationships between the individual and the collective consciousness. He uses the communicative power of art to raise pertinent issues that attempt to re-address and re-write postcolonial, Diaspora and global histories. His work is also impacted stylistically by the art of the Renaissance, handwritten texts from ancient cultures such as the Adinkra symbol system of the Akan people of Ghana, Chinese ideograms and contemporary global cultures, that explore materiality and modernist formalism - content is translated into visual forms and spatial exploration is pushed to the limits, as narratives of universal concept and meaning that rearticulates the links between the local and the global.
Included in this exhibition are two large-format acrylic paintings done in 2002 – Movements 34 and 36 that were last shown in the recently concluded traveling exhibition – "A Fiction of Authenticity: Contemporary Africa Abroad", organized in 2004 by the Contemporary Art Museum St. Louis, MI). They are strong and engaging pictures that integrate the human form with the visual power of graphic systems in a harmonious balance that also favors structural permanence over compositional spontaneity. The signs don't specify meaning so much as they intimate a hidden world in which action and belief are mediated by personal symbols and metaphors that conceal and reveal simultaneously.
Owusu-Ankomah was born in the coastal city of Sekondi, Ghana in 1956 and graduated from Ghanatta College of Art, Accra before moving to Europe where he set up his studio in Bremen, Germany in 1986. He has participated in numerous exhibitions in Africa, Europe, the Americas and Asia including Dakar Biennial (1996 and 2006), Havana Biennial 1997, Africa Remix, Museum Kunstpalast, Dusseldorf, 2004 (traveled to London, Paris, Stockholm and Tokyo) and Ghana National Museum, Accra, 2004. Recent projects include the FIFA Art Edition for the 2006 World Cup in Germany. He also recently collaborated with the designer Giorgio Armani to develop a line of clothing in connection with the world-wide business initiative (PRODUCT)RED, that is devoted to the fight against AIDS, malaria and tuberculosis in Africa. His work is in several private and public collections including The Ghana National Museum, Accra, National Museum of African Art, Smithsonian Institution, Washington DC and The Detroit Institute of Art, Detroit, MI.


"AFRICA SELECT I"

ARTCO Gallery presents until April 13th 2007 more than 60 selected art works by:
Sokari Douglas Camp CBE
Godfried Donkor
Owusu-Ankomah
Kofi Setordji
Rikki Wemega-Kwawu
Zinkpe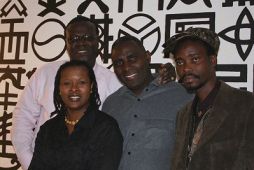 Sokari Douglas Camp, Godfried Donkor, Owusu-Ankomah
and Zinkpé (f.l.t.r.)

ARTCO Gallery starts its exhibition program 2007 directly with a highlight. Four Internationally renowned and important African artists were among the guests of the opening of the group show"Africa Select" at ARTCO Gallery on 2 February. "Africa Select I" is the starting point of a new series of group exhibitions. With these shows ARTCO would like to present the latest currents in African art and the various positions of contemporary African artists.
ARTCO Gallery
Ruifer Straße 25
52134 Herzogenrath
Opening hours:
Monday to Friday 9.00 - 18.00 o clock
or according to arrangement
www.artco-ac.de


"TRACES OF THE FUTURE"
OWUSU-ANKOMAH
drawings and paintings
1990-2005
IWALEWA Haus
Münzgasse 9
95444 Bayreuth / Germany
May 4 - September 3, 2006
Tuesday - Sunday 2 - 4 pm
fon: + 49 (0) 921 55 36 81
fax: + 49 (0) 921 55 36 84
e-mail: iwalewa@uni-byreuth.de
www.iwalewa.uni-bayreuth.de

OWUSU-ANKOMAH
Solo Exhibition
"FUTURE TRACK TOUR"
Paintings 1990 - 2005
europäischer kunsthof vicht
galerie für zeitgenössische & moderne kunst
Eifelstraße 63
52224 Stolberg / Germany
Opening of the exhibition: Saturday, August 5 at 4 pm
August 5 - September 30, 2006
Friday, Saturday and Sunday 12 - 6 pm
www.kunsthof-vicht.de
The Mojo Gallery
"As It Is" (II)
ANCESTRAL SPACE - TRANSLATED IDENTITIES
Owusu-Ankomah is one of five artists featured in an exhibition titled ANCESTRAL SPACE - TRANSLATED IDENTITIES, the second phase of a four-part series named AS IT IS, showcasing contemporary art from Africa and the Diaspora. The exhibition takes place at the Mojo Gallery in Dubai.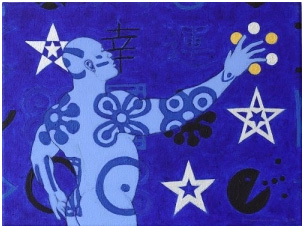 AS IT IS is the first ever group exhibition presenting contemporary African art in the Middle East.
Works from Owusu-Ankomah's current series of paintings PRELUDE TO THE MICROCRON are on view for the first time.
The exhibition ends on January 31, 2011.
The Mojo Gallery
Al Serkal Avenue, No. 33
8th Street
Al Quoz, Dubai
www.themojogallery.com

The October Gallery London presents:

FROM COURAGE TO FREEDOM
EL ANATSUI / ROMUALD HAZOUMÉ / OWUSU-ANKOMAH





The October Gallaery has commissionded three leading visual artists from West Africa to create works to mark the bicentenary of the UK's parliamentary abolition of the transatlantic slave trade. Selected for their uncompromising and visual engagement with the histories that connect Africa, Europe and the Americans, the artists each map oersonal and universal releationships between past and future, yet in three different ways.


Private View on Wednesday, 21st Feburary 2007
David Lammy MP, Minster of Culture, Romuald Hazoumé, Owusu-Ankomah (f.l.t.r.)
October Gallery
24 Old Glouchester Street
London WC1N 3AL
Open: Tues - Sat 12:30 - 5.30 pm
www.octobergallery.co.uk


"LEND ME YOUR EAR"
Kunstverein Bad Salzdetfurth e.V.
Kunstgebäude im Schlosshof Bodenburg
Teichstraße 15 A
31162 Bodenburg / Germany
June 24 - August 13, 2006
Saturday and Sunday 3 - 6 pm
fon: + 49 (0) 5060 961201
fax: + 49 (0) 5060 961202
e-mail: kunstverein-bad-salzdetfurth.de
www.kunstverein-bad-salzdetfurth.de


A painting for (RED)
To support the RED initiative, Owusu-Ankomah created a painting with the title ANGEL OF MERCRY (RED ANGEL), in which the artist reflects the intention and spirit of the campaign in his own distinctive concept of artistic form.
The canvas has a format of 150 x 200 cm and is one of Owusu-Ankomah's most expressive works. It will be auctioned with 40% of the proceeds going directly to The Global Fund.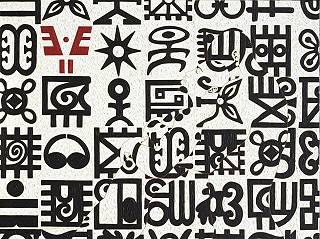 FUTURE TRACK international Version
The revised English/French edition of the art book "FUTURE TRACK', published by ARTCO and supported by Giorgio Armani, was published right on time for the presentation in London. In the book, samples of his work document Owusu-Ankomah's artistic career between the years 1990 and 2006. Giorgio Armani himself wrote an essay for this publication. The book is selling for € 29.90, of which € 5.46 goes directly to "The Global Fund" for each book sold.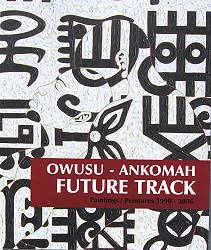 FUTURE TRACK
art book, 120 pages, 22,5 x 27 cm, softcover, 70 images
Texts: Giorgio Armani, Maria Kohlert-Németh, Ulf Vierke, Joachim Melchers
Publisher: ARTCO, 2006
English/French

"Now it is time to do justice to the develelopment this extraordinary artist has shown in the past 15 years. In a presentation of the work, which has emerged in this peroid, this book documents this wonderful positive artistic development."
Joachim Melchers, Publisher
Original painting of Owusu-Ankomah
for the 2006 FIFA World Cup Germany was auctioned in Berlin
Go_for_it_StarsOn July 7, 2006 one of the most renowned artworks of Owusu-Ankomah "GO FOR IT STARS" was auctioned together with the other artworks by international artists by Phillips de Pury at Vonderbank Artgalleries in Berlin.
Result: 17.000 €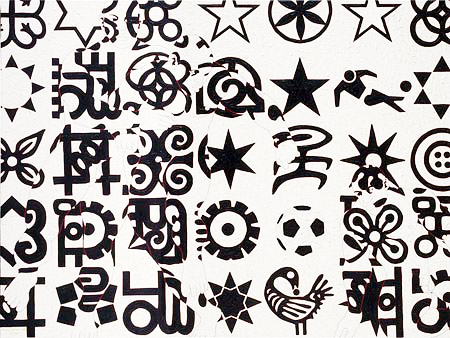 "GO FOR IT STARS", 2004, acrylic on canvas, 150 x 200 cm
The artwork has been made for the Official Art Edition of the FIFA World Cup. All works were already presented in the exhibition "Art and Football at the German Bundestag".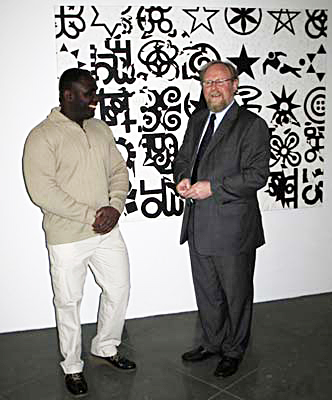 Thierse Owusu
The Vice President of the German Bundestag Wolfgang Thierse and Owusu-Ankomah at the opening of the exhibition on June 1 at the Art Space of the German Bundestag. Photo: Maximillian Thiel, 2006
Cooperation with Giorgio Armani
Owusu-Ankomah supports the fight against AIDS
by Joachim Melchers

"The beauty of art is in its ability to inspire, free from the boundaries of culture, race or religion. It was this power that attracted me to the work of Owusu-Ankomah, whose paintings draw upon an eclectic mix of styles and periods…".
Giorgio Armani
After the participation of Owusu-Ankomah in the FIFA Art Edition Project and the successful auctioning of his painting "GO FOR IT STARS" in Berlin, the artist's success story is continuing.

The highlight so far: working with Giorgio Armani in Milan in connection with the world-wide business initiative (PRODUCT)RED, that is devoted to the fight against AIDS, malaria and tuberculosis in Africa.


Mr. Bobby Shriver, Owusu-Ankomah, Mr. Giorgio Armani, Meeting in Milan, June 2006
This campaign was initiated by Bono (U2) and Bobby Shriver of the Kennedy clan. In addition to Giorgio Armani through his Emporio Armani collection, other partners are American Express, Motorola, GAP, Converse and Apple. The participating companies are developing product lines that are being marketed under the label (PRODUCT)RED, allowing the consumer to pay with a red American Express card or make a call with a red Motorola mobile phone. Giorgio Armani has designed an EMPORIO ARMANI (PRODUCT)RED collection.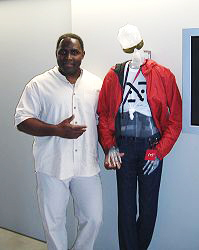 Owusu-Ankomah with products of the (EMPORIO ARMANI)RED collection


Part of the proceeds from the sale of these products goes directly to "The Global Fund" to fight AIDS in Africa. In creating his EMPORIO ARMANI(PRODUCT)RED collection, Giorgio Armani collaborated with Owusu-Ankomah who created a series of symbols exclusively for the Giorgio Armani SpA.
Giorgio Armani presented the first (EMPORIO ARMANI) RED collection in an impressive "ONE NIGHT ONLY" show during the London Fashion Week. Owusu-Ankomah was also among the invited guests.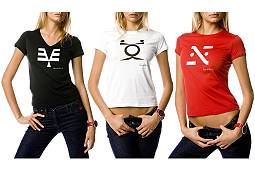 Symbols created by Owusu-Ankomah
To this Giorgio Armani:
"As I set about designing my first collection of (EMPORIO ARMANI)RED products I wanted to create a tangible and personal connection with Africa. What better way than to incorporate the striking art of Owusu-Ankomah . . . ?"

Art Book "Future Track"
The new art book of "Future Track" is now available in the German language.
The English and French Version will follow in September 2006.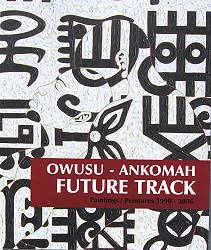 Owusu-Ankomah "FUTURE TRACK"
Paintings 1990 - 2005
Text: Dr. Maria Kohlert-Németh, Dr. Ulf Vierke
120 pages, 62 four color pictures
Peter Hammer Verlag, Wuppertal, 2006
price: 29,90 €
order: www.artco-ac.de/owusu/katalog_tracks.html